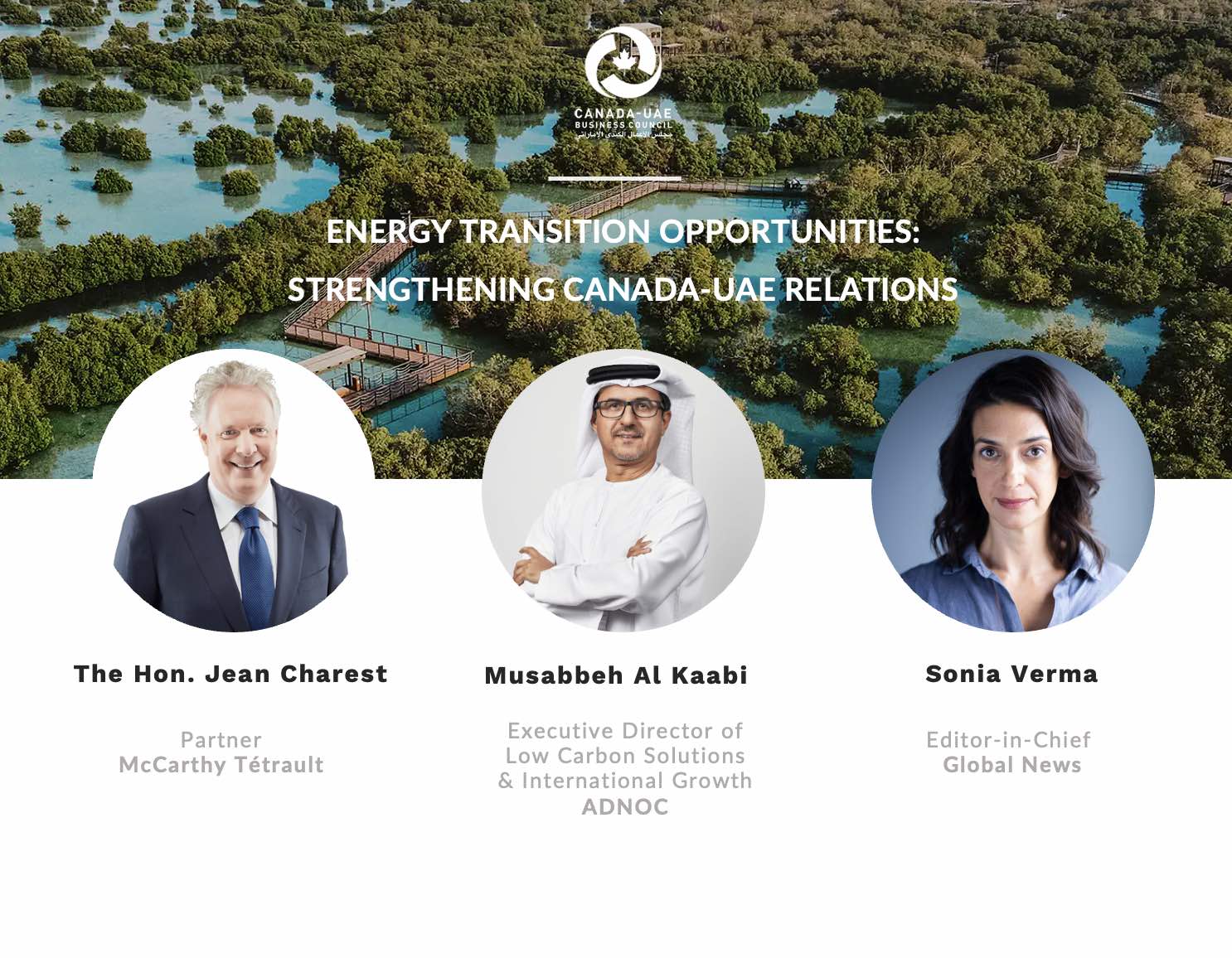 Fireside Chat Featuring CUBC Co-Chairs the Hon. Jean Charest and Musabbeh Al Kaabi
Join us on June 5, 2023 for an engaging fireside chat at the Canadian Club Toronto featuring The Honourable Jean Charest and Mr. Musabbeh Al Kaabi, co-chairs of the Canada-UAE Business Council (CUBC).
In conversation with Global News' Editor-in-Chief Sonia Verma, they will discuss the importance of the bilateral relationship, and how as two of the largest energy producers in the world, and world leaders in energy technologies, Canada and the United Arab Emirates (UAE) are uniquely positioned to champion and advance the clean energies of tomorrow.
In the lead up to COP28 being hosted by the UAE, there is a tremendous opportunity to leverage both countries' shared focus on climate action, responsible energy transition, and renewable energy technologies to accelerate 2030 trajectories through game-changing partnerships, innovative solutions, and real tangible outcomes.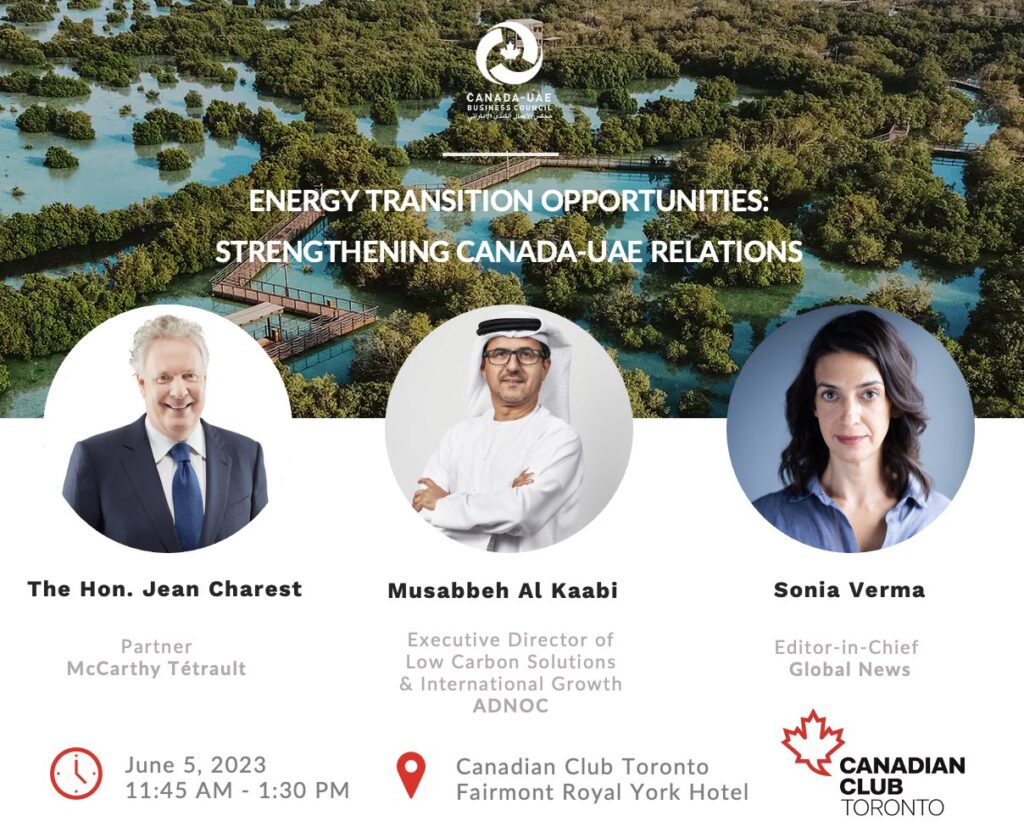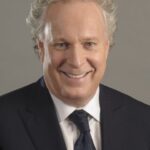 The Honourable Jean Charest
CUBC Co-Chair and Partner at McCarthy Tétrault
Jean Charest is a Partner at McCarthy Tétrault in their Montréal office. He provides invaluable expertise to the firm's clients with his in-depth knowledge and experience with public policy, corporate Canada and international matters. As a strategic advisor with a unique perspective, he supports our clients on complex transactions, projects and international mandates, as they navigate the global business environment.
With a public service career spanning almost 30 years, Jean Charest is one of Canada's best-known political figures. Mr. Charest was first elected to the House of Commons in 1984 and, at age 28, became Canada's youngest cabinet minister as Minister of State for Youth.
In the area of energy, the Charest government pushed ahead with major hydroelectric and wind power projects that will maintain Québec's position as the 4th biggest producer of clean and renewable hydroelectric power in the world after China, Brazil and the USA.
In the International arena, the Charest government has been the most active administration in the history of Québec. Premier Charest led numerous economic missions in emerging economies including China, India, Russia and Brazil. He has been a panellist at the World Economic Forum in Davos, discussing issues ranging from environment, climate change and international trade to labour mobility.
As a leader, Mr. Charest has been a strong supporter and promoter of women in politics. In 2006 his government voted legislation that requires gender parity on the boards of the 22 most important state owned corporations, and in 2007, his 18 member cabinet had an equal number of men and women.
Mr. Charest has been a lecturer on political science at Concordia University, and he remains active in public policy and community activities. He obtained his law degree from the University of Sherbrooke in 1980 and was admitted to the Québec bar in 1981.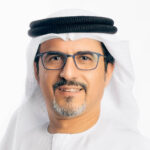 Mr. Musabbeh Al Kaabi
CUBC Co-Chair and Executive Director of Low Carbon Solutions & International Growth Directorate at ADNOC
Musabbeh is the Executive Director of Low Carbon Solutions & International Growth Directorate at ADNOC. This new business directorate, created in November 2022, is focused on driving investments in new energies and low carbon solutions as well as international growth in areas such as gas, liquefied natural gas (LNG) and chemicals. Musabbeh currently serves as Chairman of the Board of Mubadala Energy, and Yahsat. He is also a board member of Masdar, a global leader in renewable energy and sustainable development, Tabreed, a UAE- based regional utility leader, Emirates Global Aluminium, the world's largest 'premium aluminium' producer and the biggest industrial company in the UAE outside oil and gas, as well as First Abu Dhabi Bank, a leading bank in the country. Musabbeh holds a Bachelor of Science degree in Geophysical Engineering from Colorado School of Mines and a Master of Sciences in Geoscience from Imperial College, London.
Registration & Tickets: Complimentary for CUBC members.
For non-CUBC members, please click here to register.
November 24, 2023
Environment and Climate Change Canada (ECCC) has officially unveiled Canada's pavilion program at COP28.
October 30, 2023
The Canada-UAE Business Council is pleased to introduce and welcome its new corporate member, BlackBerry.
October 25, 2023
The Canada-UAE Business Council hosted yesterday a luncheon in Abu Dhabi with the Honourable Mélanie Joly, Canada's Minister of Foreign Affairs.